American Angus Sirloin 220g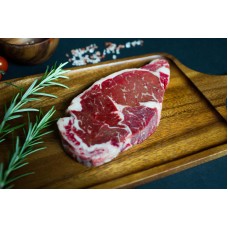 American Angus Sirloin (about 220g)
Origin: United States
Weight: about 220g / piece (each piece is individually vacuum packed)
Storage method: Store in the refrigerator -18 degrees, up to 1 year
The image is only a reference
Please refer to the packaging for this product details
Product Description
Imported from the United States, top Angus cattle. Chilled, eat with confidence, keep the meat fresh, and taste more tender and soft!
Angus cattle is a kind of cattle breed. The meat of Angus cattle is meticulous in texture, and the fat is distributed on it like a marble pattern. It is recognized as the most tender and juicy beef on the market.
Sirloin is the back loin on both sides of the back lumbar spine of cattle. This part is close to the motor muscles of the legs, so the meat is moderately tender and less oily. There is only a large piece of fat on the side, as long as it is removed when eating Fat absorption has been greatly reduced.
Everyone who loves steak, wanting to fry steak at home seems to be a professional level, but it is actually a simple matter? The steak is golden and fragrant on the outside, and the inside of the meat is pink, which does not damage the original texture of the meat. ,smell.
Thawing method:
Quick Method - Place the original steak in an airtight package between two stainless steel pots and it will defrost completely in about 20 minutes
Medium-speed method – complete with immersion water in the sealed package, about 30 minutes to fully thaw
The slow method – thaw in the refrigerator at 0°C to 4°C the night before cooking
*It is recommended not to thaw unpacked steaks at room temperature to avoid the growth of bacteria
Recommended cooking method:
1. After the steak is thawed naturally, you can rub your fingers lightly until the meat is completely soft.
Then dry the steak with kitchen paper
2. Before cooking, simply season with a little salt and black pepper
3. Put a little oil or butter in a frying pan, heat it up, add the steak, fry the steak on medium heat for 1.5 minutes on both sides (5 mature) to seal the gravy
4. Remove the steak from the wok, place the steak on the plate, let it stand at room temperature for about 5 minutes, and keep all the rich gravy in every corner of the steak
5. Ready to enjoy