Komo Squeeze Cheese Tubes 150g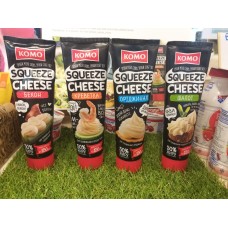 KOMO, a Ukrainian cheese brand, has launched a new processed cheese in a format that is brand new for the local market, meaning, easy-to-go tubes.
For our part, we believe that interesting formats deserve interesting design.
Therefore, the Squeeze Cheese tube starts talking to you right as you take it from the shelf, flirting, teasing, and pushing you to squeeze it. "Make me squeeze, make yourself cheese!", "Honey, I'm cheese!", "C'mon, bacon!", "So-o-o creamy-mi-mi-mi", "Shallot, you're so hot"… It is definitely the most talkative and friendly design you can ever encounter on the dairy shelf in Ukrainian stores!
Original Squeeze cheese
原味
Bacon Squeeze cheese
煙肉
Shrine Squeeze Cheese
蝦
Shallot Squeeze Cheese
香葱